Advance Matrix Structural Solutions Provides answers for Bridges and Concrete Repairs using up to date systems from leading manufacturers like ETIC, FOSROC, BASF, HILTI, CS Group & Prospect Specialties and more.
Over the years we have grown and changed the construction industries in Saudi Arabia. We have succeeded to establish ourselves as one of the most prominent specialties solutions in the Kingdom. We believe that the attention to detail established over the years on our scope market will enable us to bring a higher level of service and craftsmanship to the base building market. Our Experience and expertise enable the Company to offer clients a local solution backed by international engineering and construction techniques.
Advance Matrix Structural Solutions's philosophy is simple: to offer the client the best solution in terms of design, supply, and construction for their market and project.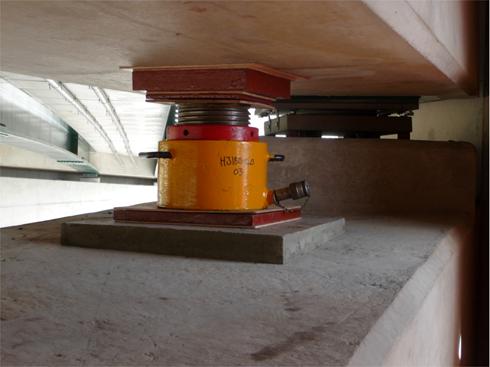 Structural bearings are important elements of structures, especially in large infrastructures such as bridges, heavy buildings, high-rise buildings, ensuring load transfer, movement, rotation, vertical and horizontal restraints as required by the design at critical locations in a structure.
i. Elastomeric bearings for low and moderate loads.
ii. Pot bearings, for higher loads. They might accommodate small rotations.
iii. Spherical bearings, for high loads and high rotation requirements.
iv. Special bearings, including shear keys, up-lift systems integrated in bearings, temporary ILM bridges, and seismic bearings.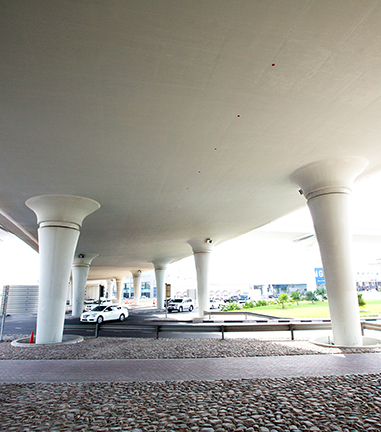 Elastomeric Bearings are designed for use in bridge and building construction – under pre-cast concrete beams, steel beam supports and other support points – as local load carrying components.
REiNWEL® provides application services to virtually every type of Elastomeric Bearings covering:
High capacity Steel Plate Laminated Bearings
Elastomeric Laminated Bearings are designed for use in bridges and similar types of structures. They act as a load transfer element that is capable of supporting a vertical force whilst simultaneously absorbing horizontal and rotational translations that may occur.
REiNWEL offers an application of 3 grades Steel pot bearing
Standard Reinforced Bearing Pads and Strips.
Generically referred to as a "reinforced" Bearing Pad or Bearing Strip, they are pressure molded from a high-quality Natural Rubber of 60 IRHD hardness.
These elastomeric bearing pads provide an economical solution to problems caused to a structure by static and dynamic effects of traffi c or wind / variations of temperature, creep, shrinkage or pre-stressing / vibrations and impacts. The pads provide freedom between two elements of a bridge structure absorbing stresses from horizontal and vertical loads and rotations.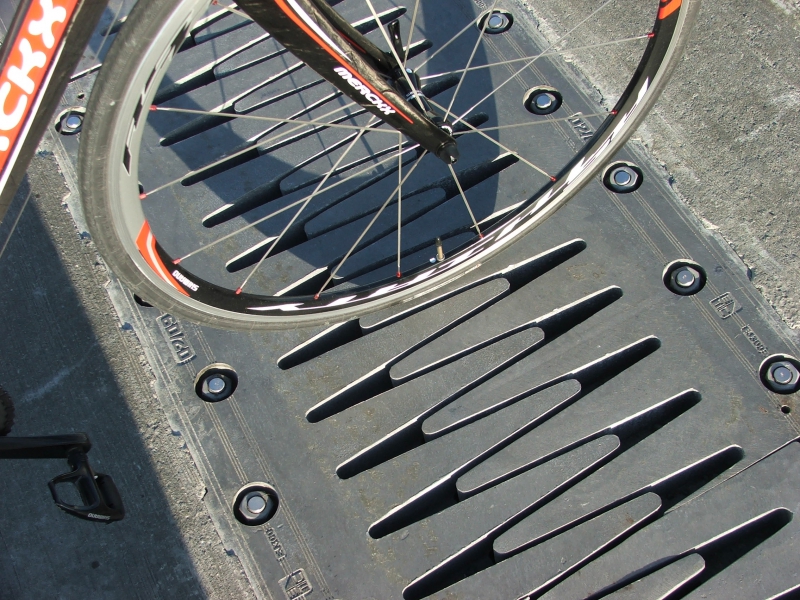 REiNWEL Structural Solutions can facilitate the provision of specialist installation teams to undertake site inspection, installation, repair and maintenance activities associated with all expansion joints and seals.
Our well respected teams consist of highly trained and experienced installers led by technically qualified engineering personnel that work closely with our customers. Our own in-house engineering design and manufacturing capabilities ensure we have the most effective, innovative and cost efficient outcomes within the industry.
Expansion Joints – Small Movements
These designs are suitable for multi-level car parks, plaza decks, pedestrian bridges, and other applications that are pedestrian intense.
i. Strip Seal Expansion Joint System
ii. Polymer Nosed Expansion Joint System
iii. Aluminum Expansion Joint System
iv. Compression Seal
v. Two Part Silicone Seal
Expansion Joints – Large Movement
Large movement expansion joints are best defi ned as those that provide support across the expansion void, without exceeding the code requirement of the 85 mm ULS unsupported gap. Large movement expansion joints, particularly of the Modular type having movement capacities up to 2,000mm, require careful consideration as to the structural integrity of the bridge in this
highly stressed area. Typical block out depth is in the order 0f 400mm. Careful consideration is required early in the design process. Consultation with REiNWEL engineers is recommended.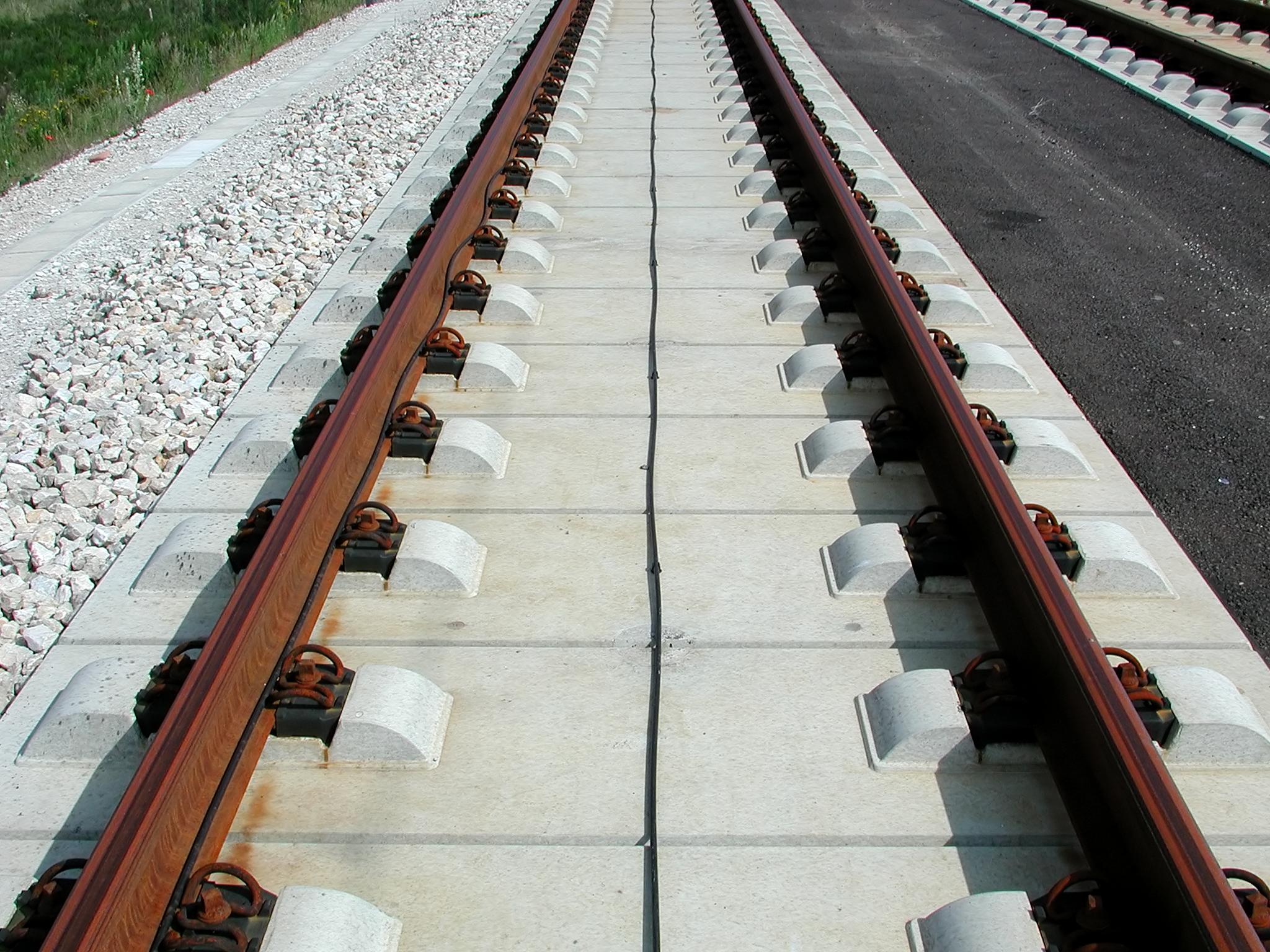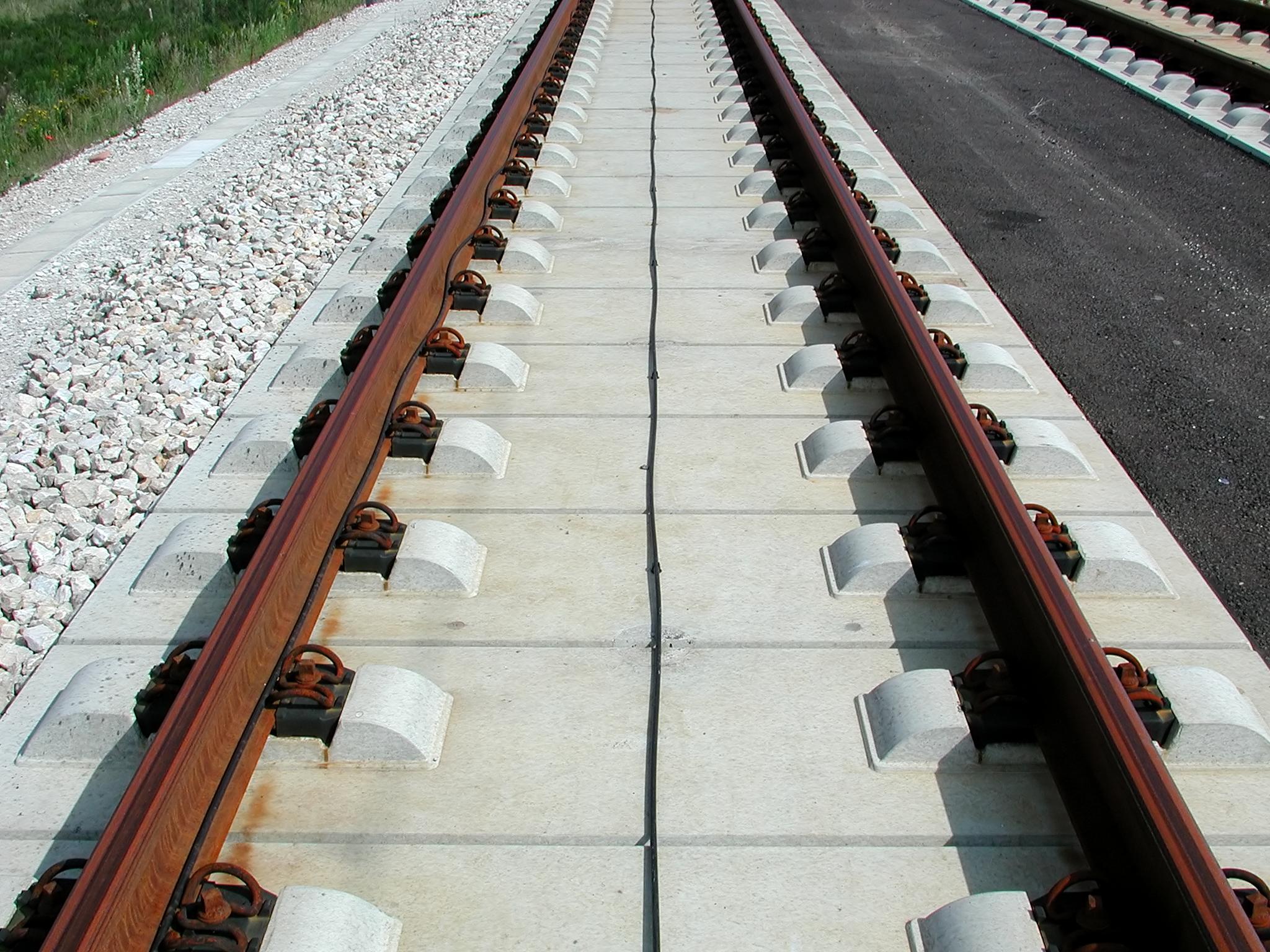 REiNWEL application and service expertise are second to none going together with you through the process of selecting, testing, procuring and applying bridge bearing grouts that you need for your project.
REiNWEL Applications for Structural Grouting
REiNWEL provides applications for grouting under bridge bearing plates and to fill voids, holes, and cavities or for embedding drainage pipes and other elements.
REiNWEL Applications for Fixing of Road Components
REiNWEL's system application for road construction and maintenance works Concrete curb bedding and jointing.
REiNWEL Applications for Rail Tracks
Rail fixing, damping, and bedding solutions for all types of rail track systems to be installed on bridge decks
Direct rail track fixing and bedding solutions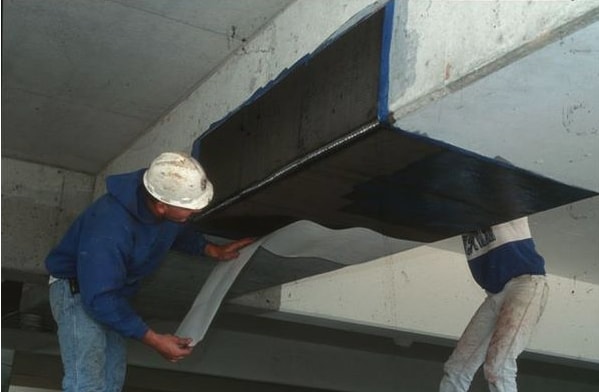 REiNWEL has been a pioneer with the installations of carbon fiber reinforced polymers based structural strengthening systems. As a leader in the structural strengthening of all types of reinforced concrete structures, REiNWEL provides a full range of fully tested applications and approved strengthening systems.
REiNWEL for Shear Strengthening
Strengthening systems for shear strengthening of beams and columns, consisting of structural epoxy adhesives and:
Prefabricated L-shaped plates for application on rectangular T-Beams
Fabric strengthening system based on unidirectionalcarbon and glass fibers, for application on beams
and beam-column-joints.
REiNWEL Applications for Flexural Strengthening
Structural strengthening systems for the flexural strengthening of bridge decks, beams, and girders, consisting of structural epoxy adhesives and:
The carbon fiber reinforced polymer based, pultruded plate with different E-Moduli and in various dimensions, for external application
The carbon fiber reinforced polymer based NSM system for application in near- surface slits
REiNWEL Applications for Post-tensioned Strengthening
Structural strengthening system for the post-tensioned strengthening of bridge decks and beams, consisting of:
Tendon based on plates and special anchorage heads End-anchorage solutions based on project needs
REiNWEL Applications for Axial Strengthening
Strengthening system for axial strengthening of columns (column confinement), consisting of epoxy adhesives and:
Unidirectional fabrics, based on carbon and glass fibers, available in a range of area weights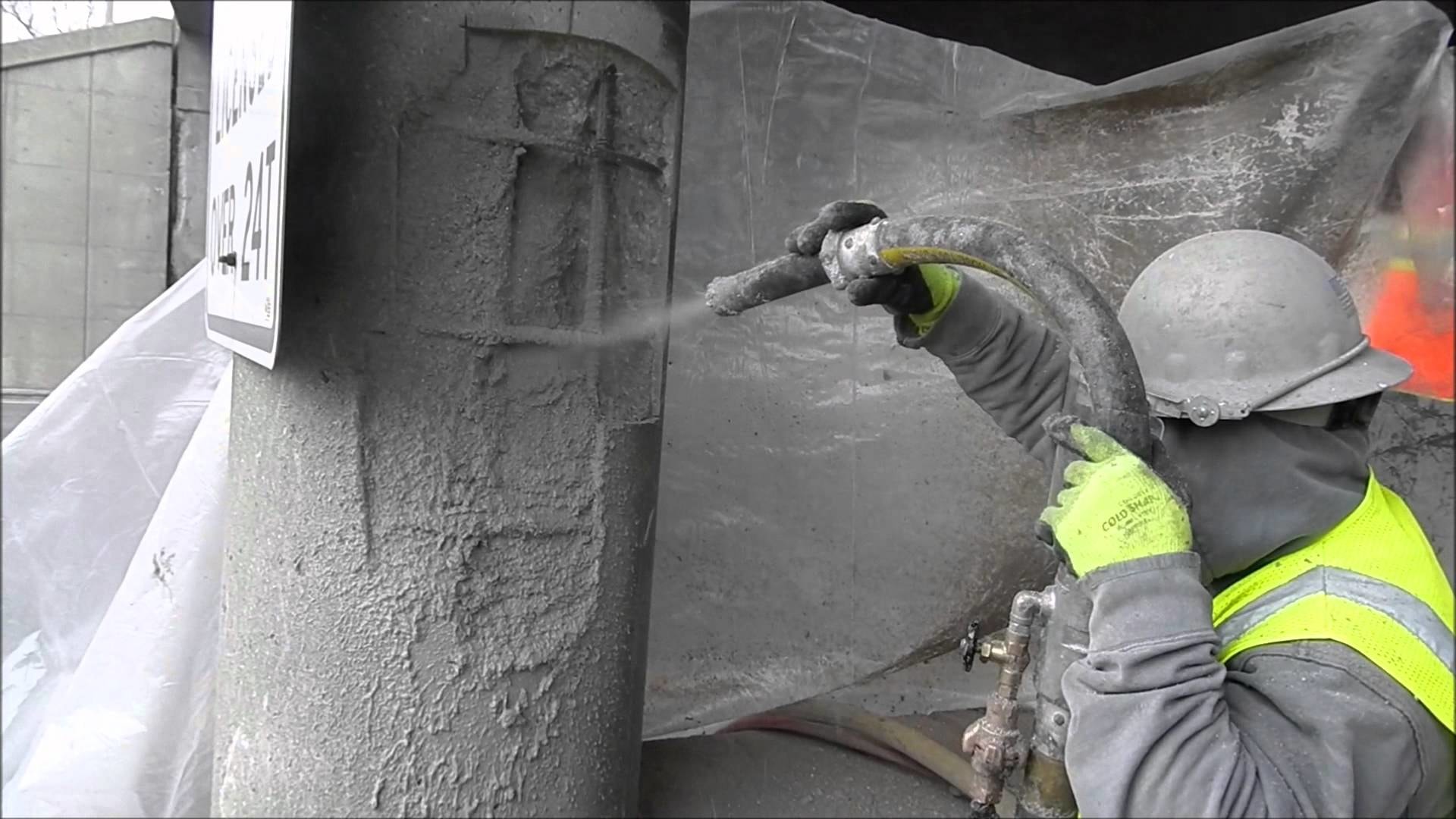 Repairing damaged concrete is one of the primary requirements in the maintenance of concrete bridges. REiNWEL provides full services of bridge concrete repair that has to be repaired with durable concrete repair materials. A sound and a correctly repaired concrete substrate is also the basic requirement for any additional Waterproofing, Protection or Strengthening systems to be applied.
REiNWEL applications for Horizontal Repair Works
Thin-layer repair system for bridge decks:
Bonding bridge primer for large area repairs.
Semi-fluid repair mortars for large area repairs
Thixotropic repair mortars for local patch repairs
Self-levelling, epoxy modified, cement based levelling mortars
REiNWEL applications for Vertical Repair Works
Structural concrete repair system for columns and beams:
Bonding primer where relevant.
Hand or wet spray machine applied repair mortars.
Surface levelling and fairing mortars.
REiNWEL applications for Overhead Repair Works
Structural concrete repair systems for soffits and other surfaces under live dynamic loading:
Bonding bridge primer
Hand or machine applied repair mortar
Surface levelling mortar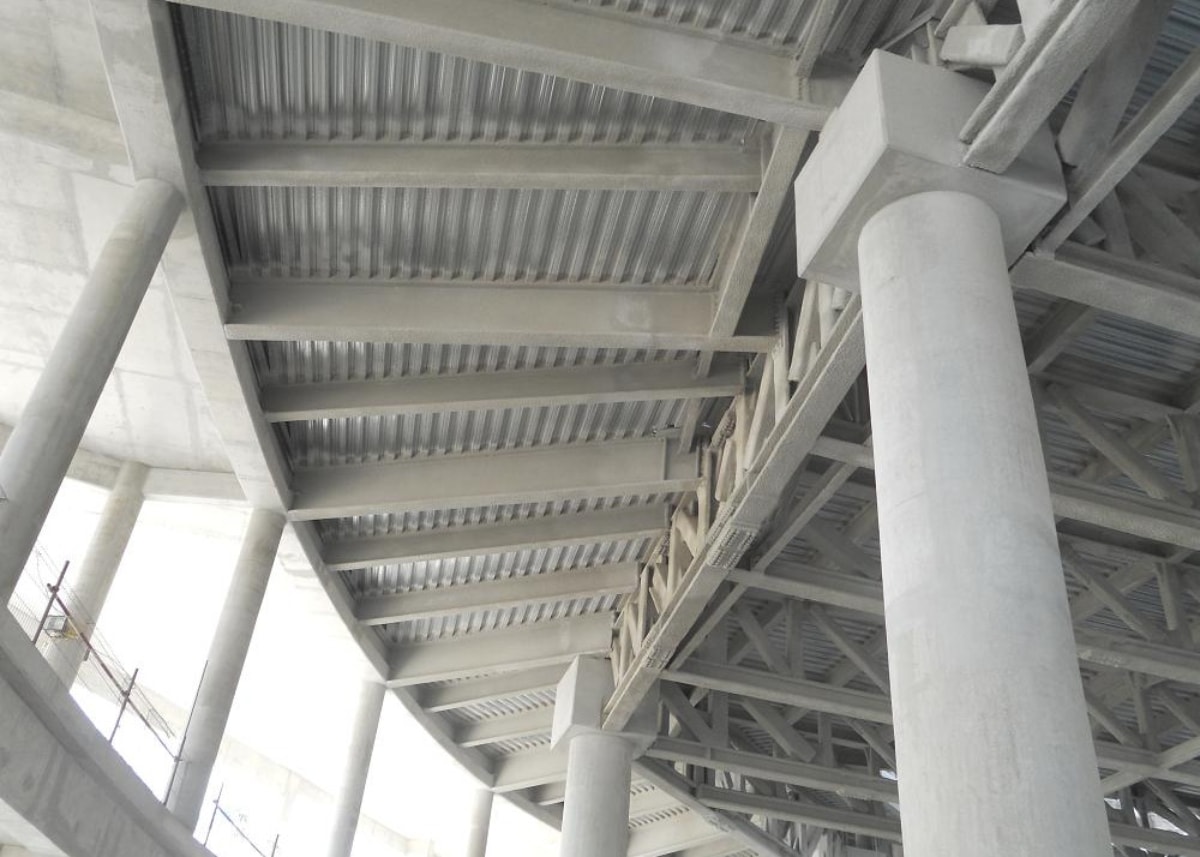 Our cementitious coatings are selected from top quality materials paired with our highly trained
engineering staff to ensure you get a system tailored to your specifi c needs, and our renowned team of
applicators and technicians work with you to ensure your coatings are applied correctly and effi ciently.
As a result, you know that REiNWEL coating system will always meet your requirements and perform as
promised.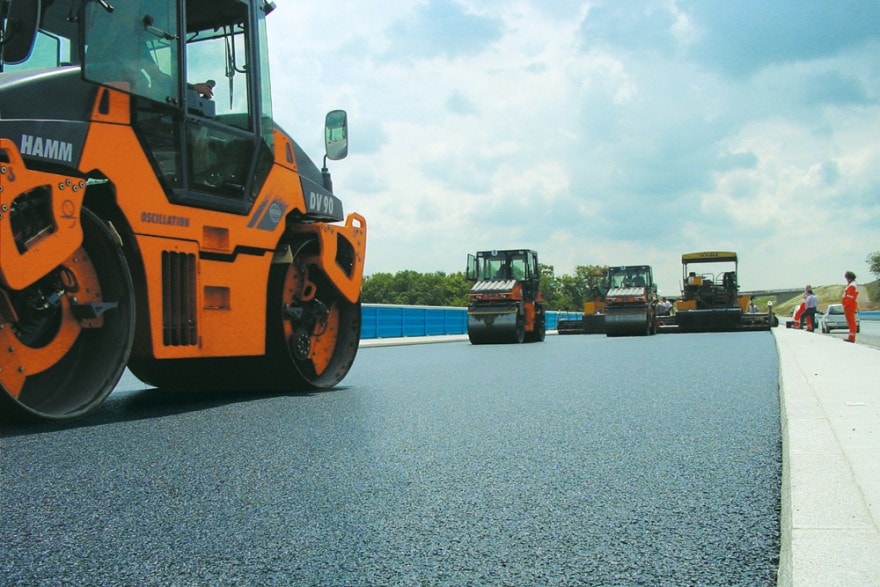 REiNWEL's Structural Solutions has solid reputation on Surface and Asphalt layers and we provide fast and efficient, getting the job done as soon as possible.
Good skid resistance, flat surface and low sound levels are needed for surface layer for a safe and comfortable drive. We at REiNWEL's believe that to insure durability of the required characteristics of the surface layer, the surface layer needs to have:
Sufficient resistance against deterioration
Resistance against oil, water and minerals
Less susceptibility to weather conditions
Protection of the deck plate and the waterproofing layer
High stability
Resistance to fatigue
Resistant to permanent deformation
Possibility to spread the loads
Surface / Asphalt Layers services:
Asphalt layers for steel bridge decks
Asphalt layers on concrete bridge decks
Bituminous mixtures used for asphalt layers on bridge deck
Mastic asphalt
Modified asphalt concrete
Stone Mastic Asphalt
Highly modifi ed asphalt mixtures
Epoxy asphalt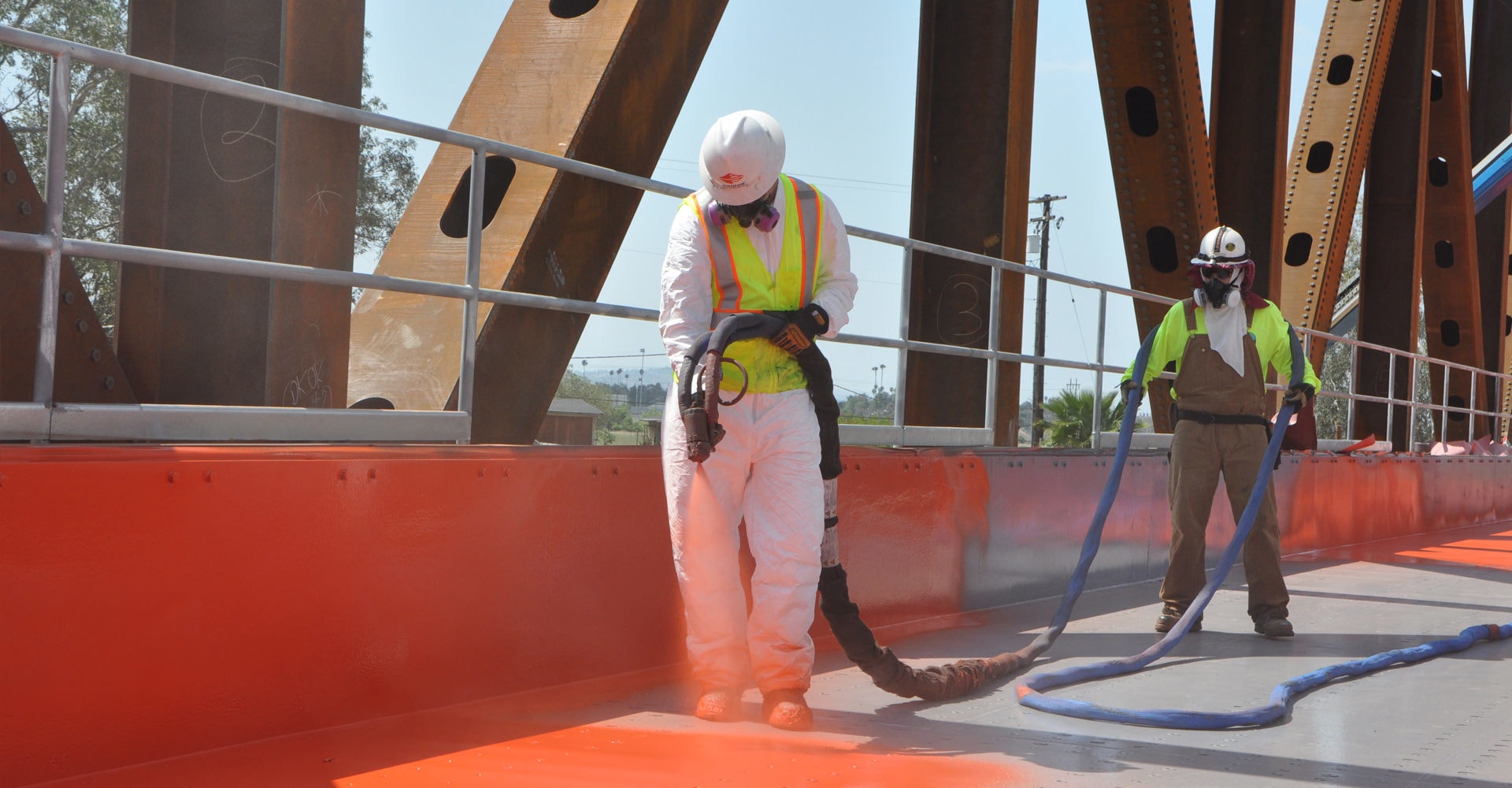 REiNWEL's Waterproofing Systems solutions allows the bridge to become robust against flaws achieving a guaranteed watertight system.
REiNWEL provides a unique service for a full range of waterproof sealing applications and systems for reinforced concrete bridges. These include:
Joints Watertight Solutions
Crack Injection Systems
Bridge Deck Waterproofing Solutions
Adhesion between the bridge and the bituminous mixture
Mechanical resistance (loads from the traffic, thermal expansion)
Resistance to high temperatures during the application of the hot asphalt mixture. • Concrete admixture technology
REiNWEL's Applications for Lightweight Wearing Surfaces
Waterproof, anti-slip systems for bridge decks:
System consisting of an appropriate substrate primer with elastic waterproof wearing layer with or without ballast.
Pure Polyurea Spray Applied System
Fast curing pure polyurea membrane with aggregate injection system for pedestrian or cycle bridges consisting of a primer and One Shot system waterproofing and wearing layer.
Color application of top coat is suitable for both systems.
REiNWEL Solutions for Elastic Joint Sealing
High Performance watertight joint sealing systems for use on bridge decks, parapets and other elements:

For facade and parapet joint waterproofing
For bridge deck and deck waterproofing edge terminations • For facade joint waterproofing
REiNWEL Solutions for Waterproofing Cracks
Structural bonding and flexible watertight injection systemsfor crack sealing in concrete structures:
For the surface sealing of bridge decks:
Flexible polyurethane and acrylic resin based injection systems.
For structural cracks and void repair:
Application of epoxy resin based systems.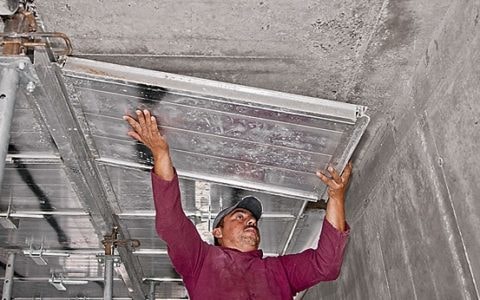 As a Specialty repair contractor, REiNWEL is not limited to a single concrete repair method; our experience and expertise combine specialized and conventional concrete repair methods to provide the most practical solution for all concrete repair projects.
Concrete is widely used for everything from foundations to bridges. Water tanks, buildings, and even dams can be made with concrete. It's a strong, durable, and well understood material. From small concrete repair projects to multi-faceted full scale restoration projects within the Kingdom,
REiNWEL can deliver on every phase including:
Assisting owners and engineers in problem identifi cation.
Development of concrete repair options and feasibility studies.
Budget pricing of repair options and delivery options to meet your facilities needs.
Turn-key delivery and management of the complete repair process.
Design-Build Contracts Maintenance Contracts
We offer Concrete repairs are done to concrete structures which experienced concrete degradation caused by fi re, aggregate expansion, sea water effects, bacterial corrosion, calcium leaching, physical damage and chemical damage. Full-depth replacement & Concrete Injection – Using high technical concepts, Structural and cosmetic repair systems.
Your concrete repair / resurface project may be in:
Finish floor in living space
Exterior walkway / patio
Subflooring in a living space
Pad for light structure
Garage or basement floor
Steps
Driveway / Parking Area
Pool Decks
We offer solutions for all types of concrete structure deterioration / problems such as:
Honeycombing & Pinholes
Shutter Removal Damage
Curing & Shrinkage Cracks
Static Movement & Settlement Cracks
Low Cover / Exposed Rebar
Wet to Dry Casting
Voids/Mechanical Damage
Rain Damage Slab
Live Movement & Settlement Cracks
Damage Arises & Edges
Filing Lifting Eyes & Spacers
Grouting Bases / Precast Element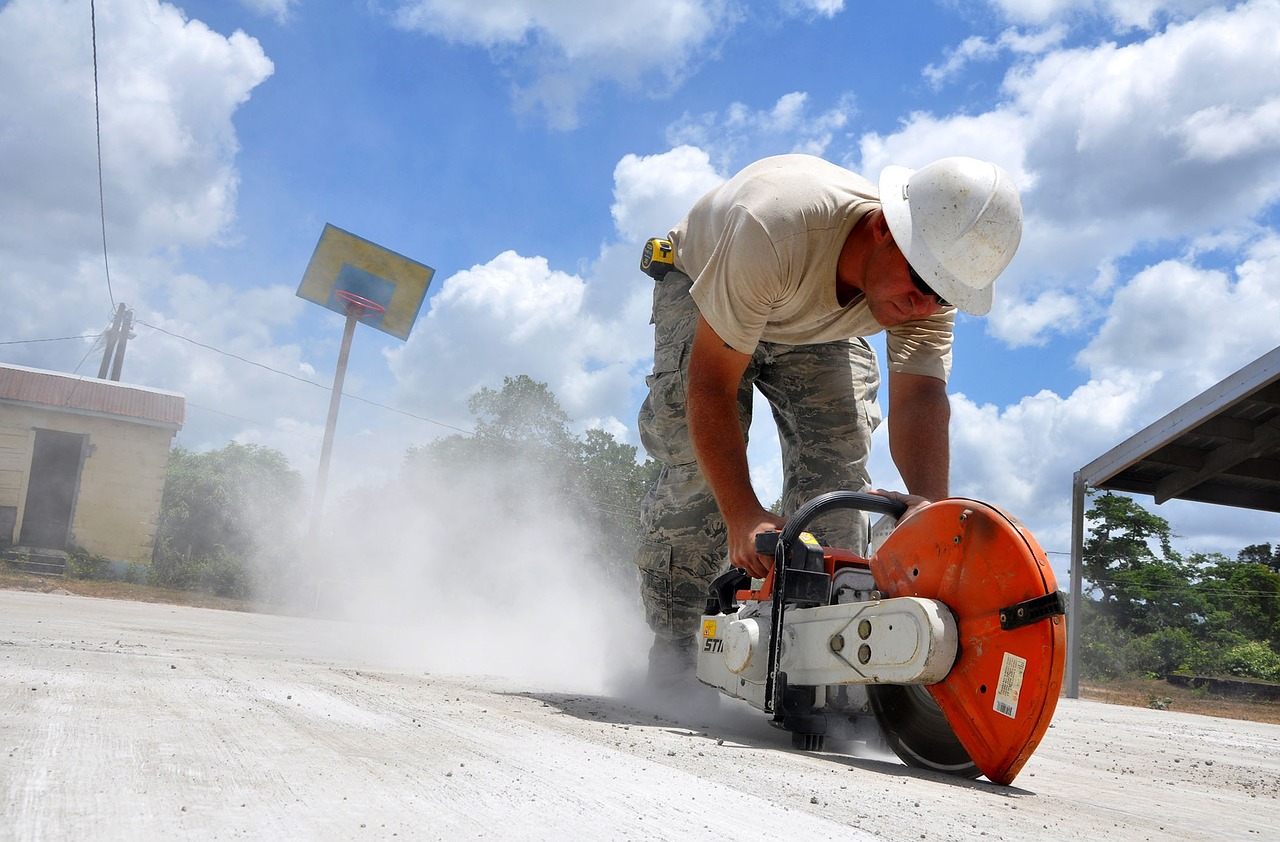 For the large jobs and small jobs in cutting, drilling, repair and rehabilitation, We at REiNWEL Structural Solutions have the tools and the industry knowledge to provide a quality service. Our range of specialist services covers all types of projects in the construction industry.
REiNWEL Concrete Cutting And Diamond Coring
We provide diamond drilling for those tough jobs, concrete sawing for floors and walls and concrete cutting. For a clean, quiet and precise concrete removal service you might be interested in our hydraulic bursting and crunching which is the latest advancement in demolition and repair.
We are the professional and quality contractors you can rely on. Our dedication to working within the industry standards. So for cutting and diamond coring services in the Kingdom for we are a name you can trust.
REiNWEL Concrete Cutting And Diamond Coring Offers You:
Knowledge, Experience, Expertise
Core Competencies in Large Scale Projects
Capabilities to Fulfi ll Requirements for Jobs of Varying Sizes
Quality Control
Outstanding Service
On Time Job Execution
Cost Saving Strategies
Our Services includes:
Hand sawing
Ring sawing
Road sawing
Diamond grinding
Core drilling
Wall sawing
Wire sawing
Concrete removal.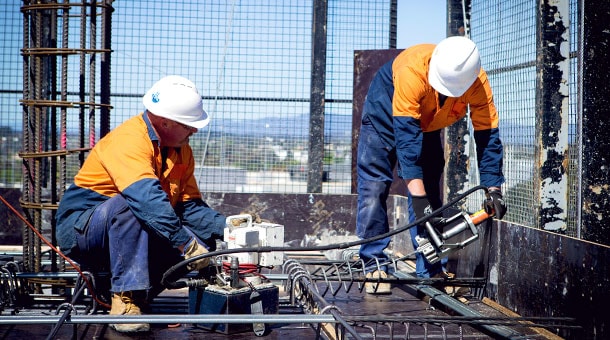 Using its experience in the specification and design of bridge solutions, combined with its extensive
structural engineering expertise, REiNWEL is in the unique position to be able to design bespoke
Post-tensioning bridge decks to meet clients' requirements, offering an improved level of operational
flexibility and accommodating the client's needs.
Deck Tension Services:
Transverse deck post-tensioning
Done to strengthen the deck slab in direction perpendicular to traffi c flow. Its purpose is similar to longitudinal post-tensioning, only the direction of application is different. It is usually done in bridges where the deck width is large, which makes it diffi cult to design the deck slab.
Longitudinal post-tensioning
Longitudinal post-tensioning helps keep the precast bridge deck in compression and avoid problems such as leaking, cracking, spalling, and subsequent rusting on the beams at the transverse panel joints.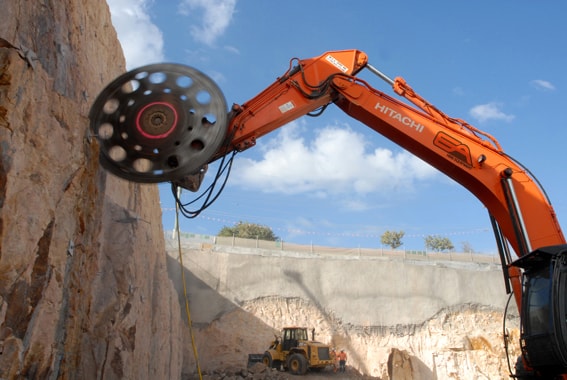 REiNWEL understands that Surface failures are the most common concrete damages. Whether due to the freeze-thaw action, aggregate pop-outs, or corroded reinforcing steel, REiNWEL's repair methods are the perfect solution to such damages.
We offer Specialties in:
Epoxy bonding method
Stitching Method
Grouting Method
Overlaying
Jacketing
Drypack Method
Routing & Sealing method
External Stressing
Blanketing
Repairing spalling and disintegration.
Prepacked concrete method
Replacement of concrete
Comments are closed.