Advance Matrix Structural Solutions Provides answers for Bridges and Concrete Repairs using up to date systems from leading manufacturers like ETIC, FOSROC, BASF, HILTI, CS Group & Prospect Specialties and more.
Over the years we have grown and changed the construction industries in Saudi Arabia. We have succeeded to establish ourselves as one of the most prominent specialties solutions in the Kingdom. We believe that the attention to detail established over the years on our scope market will enable us to bring a higher level of service and craftsmanship to the base building market. Our Experience and expertise enable the Company to offer clients a local solution backed by international engineering and construction techniques.
Advance Matrix Structural Solutions's philosophy is simple: to offer the client the best solution in terms of design, supply, and construction for their market and project.

Application of Specialty Coatings for
Containment of Toxic Liquids
Successful decontamination is essential in protecting laboratory workers. It also reduces the likelihood of cross contamination. The decontamination regime can be as simple as washing with detergent and water through to steam cleaning.
It is therefore crucial that the coating systems are effective enough to create a contained area whilst the cleaning process takes place. Coatings must be seamless between ceiling / wall and wall / floor junctions. We have gained valuable experience in developing successful jointing procedures where floor and wall coatings meet, working closely with designers and coating manufacturers.
The coating systems we apply are specifically designed to meet these rigorous operations. As air pressures and temperature vary, the elastomeric coating system will resist and absorb impact without suffering damage. With correct application and maintenance, systems will remain fully active against micro-organisms for ten years. A simple recoating process will restore protection fully.
Complete Parking Deck Vehicular Coatings Systems
Because they perform so much and simultaneously have to be very affordable due to the surface sizes. Here, PRUNOVA offers reliable protection for concrete and building structures, safe traversable on foot or by vehicle and an attractive appearance. And keep an eye on the required cost relations.
System advantages of the floor coating systems for Parking Deck
seamless, reliably sealing
low surface weight
stressable, extremely durable
very high resilience to chemicals (fuels, oils, de-icing salts, acids)
good abrasion-resistance for rolling traffic
anti-slip surface, even when wet
weather resilient
UV-resilient sealable
easy to clean, insensitive
resistant to rearward permeating moisture
available in various colors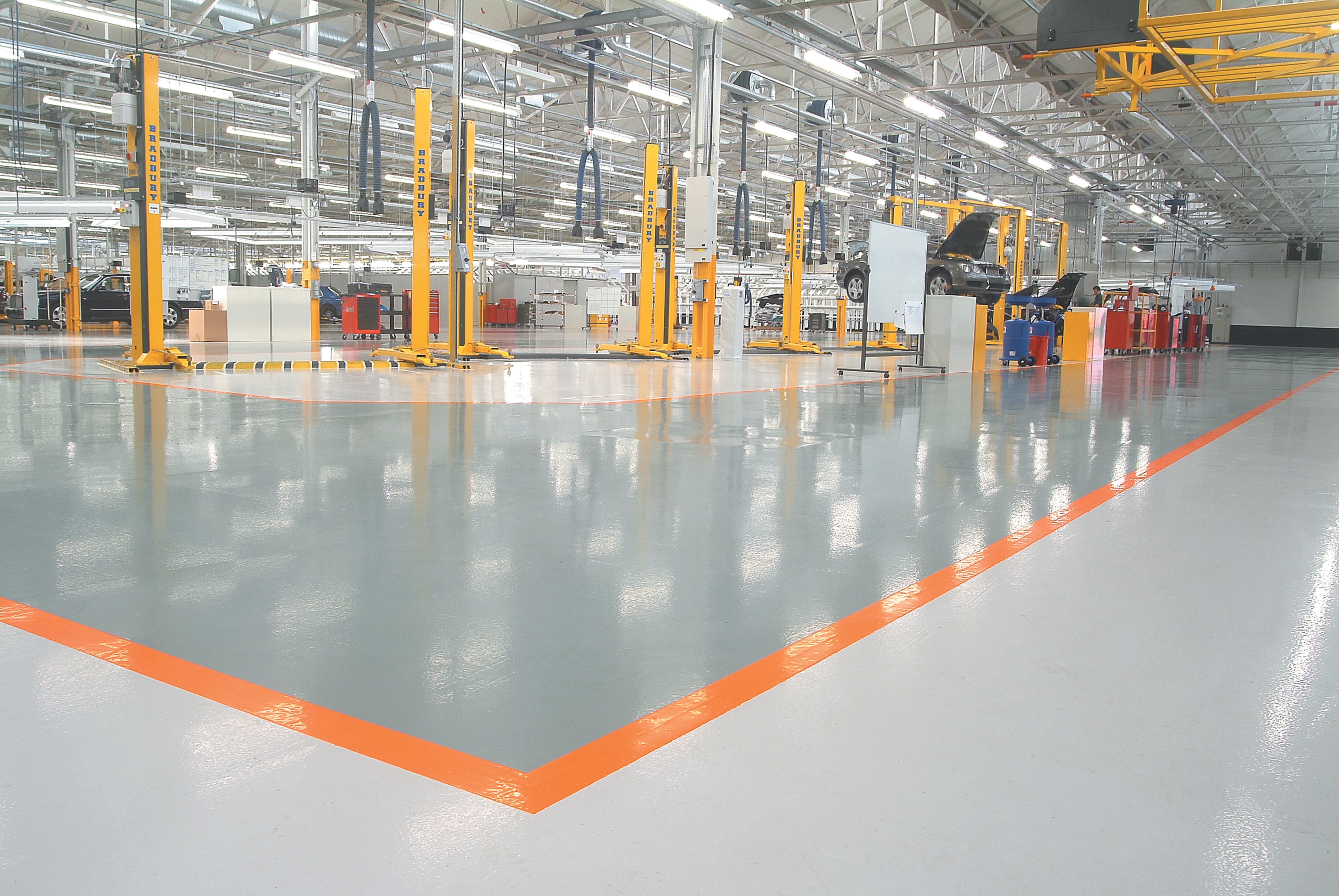 The industrial floor is literally the basis of the production process and therefore plays a major role in the maintenance of buildings, working conditions and hygiene. Production techniques are constantly becoming more advanced, and floor treatments increasingly have to meet very specific requirements. Floors for non-industrial applications such as public buildings, hospitals and commercial developments also have to meet set requirements.
For high-demand commercial and industrial settings,PRUNOVA's Industrial Floor Coating Systems are the optimum coating system designed for most projects conditions. Whether the surface must tolerate significanttraffic, large equipment, abrasion, orharsh chemicals, PRUNOVAoffers versatile systems that fit project environment.
ADVANTAGES
Highly customizable, component-based coating systems • Variety of colors, surface textures, gloss levels
Easy-to-maintain, seamless surface
Improves light reflectance and facility aesthetics
Abrasion, chemical & impact resistant
Typical Applications
Commercial & Institutional
Correctional institutions
Schools/education facilities
Sports & entertainment venues
Healthcare
Animal holding facilitiese
Veterinary
Industrial & Manufacturing
Beverage processing
Manufacturing, heavy
Water treatment
Chemical processing
Manufacturing, light
Food processing
Pharmaceutical production
Transportation
Aircraft hangars
Transportation terminals
Automotive dealerships
Vehicle maintenance areas
Common Areas
Aisleways/corridors
Laboratories
Mechanical rooms
Warehouse/distribution
Chemical areas
Loading docks
Mezzanines
Clean rooms
Lobby areas
Restrooms & shower areas
Antislip Floors & Walkways
PRUNOVA offers an extensive range of quality non-slip floor applications that are the ideal solution to the problem of fixing slippery walkways including slippery floors, ramps, stairs, steps and landings. PRUNOVA can assess your individual anti-slip needs and budget and provide a comprehensive selection of options that include metal-backed and vinyl-backed floors as well as a range of non-slip coatings.
Specialised Coatings
The PRUNOVA team can apply heavy-duty specialized non-slip coatings to floors, ramps, walkways, stairs and steps.
Alternatively, PRUNOVA can apply non-slip coatings at factories to sectional walkways, stairs or floor plates supplied with the selection of high-quality materials.
Coatings to suit Steel, Checkerplate, Concrete, and Asphalt
Extra heavy-duty epoxy formula ideal for vehicular traffic
Choice of four non-slip grades from Fine to Heavy Industrial
Prompt on-site or factory coating service
Anti-static Systems
Prunova's Anti-Static systems protects against Electrostatic discharge (ESD) in Industrial buildings and facilities.
We offer Special systems for your Electronics, Electronics Assembly, Military Facilities,Chemical manufacturing facilities, Pharmaceutical and Healthcare facilities.
The Anti-static flooring from Surface Solutions safeguards both sensitive electronic equipment and personnel from an electrostatic discharge (ESD).
Prunova's aim is to provide Surface Solutions, expert consultation and installation, and a full line of anti-static flooring solutions in addition to other industrial flooring systems. We are committed to 100% customer satisfaction on every project.
Conductivity refers to the ability of a material to conduct an electrical charge to earth or 'ground'. In non-technical terms, this can be described as the ability of a material to carry or 'conduct' an electricalcurrent.
The electrical conductivity or the specific conductance of a flooringsystem is therefore also a measure ofthe material's ability to conduct an electric current. An electric current is a quantitative measure of theamount of charged particles passing through a medium, and in order for an electric current to be created, there needs to be an electrical potential difference between two points in a conductive medium with anenergy source to drive the charge.
Anti-static Coatings
Anti-static Epoxy flooring system
Chemical Resistant ESD Coatings
Bench Matting and Flooring solutions
Bench Matting
Floor Matting

Hard Wearing Conductive Matting
Heavy Duty Hard Wearing
ESD Matting ESD Anti Fatigue Matting
Dissipative Three Layer Matting
ESD Anti Fatigue Tiles

ESD Interlocking Floor Tiles
Specialized Matting
Contamination Control Matting
Cushion Matting
Application of Heavy Duty
Seamless Epoxy Resin Floor Screeds System
Application of Epoxy Mortar System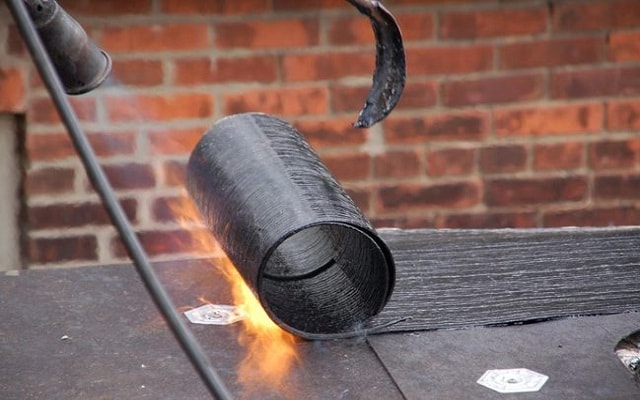 Prunova's waterproofing systems are fully certified seamless solutions and can be used on the vast majority of applications. It can be used to waterproof all types of reinforced concrete roofs, basements and other below ground structures. Our goal is to define the appropriate waterproofing strategy and type of system for a specific project, it is important to consider not only the ground conditions but also the project requirements of the owner. The functionality and future use, service life and the total cost of ownership should also be considered.
They are suitable for both refurbishment and new-build projects, and provide cost effective, long term solutions.
Waterproofing Systems
Fully Bonded Membrane System
Compartmentalized Membrane System
Liquid Applied Membrane System
Waterproof Mortars and Bituminous Coatings
Watertight Concrete
Cavity Drainage System
Flexible Waterproofing of Tunnels
Waterproofing for Bridge and Decks
Waterproofing for Balconies and Walkways
Repair and Refurbishment Solutions
Steel and Concrete Tanks
Waterproofing Systems
Prunova's Steel and Concrete Tanks Waterproofing System are used for Tanks that stores potable water, fire suppression and waste water processing are not naturally waterproof.
Whether it be a non-soluble crystalline product that becomes part of the substrate or an exterior sealing product, if the concrete surface is not prepared properly before the application, premature failure of the concrete waterproofing and deterioration of the substrate is inevitable. Untreated joints in concrete structures are natural conduits for liquid migration and over a period of time can lead to serious leaks and possible structural failures. We waterproof industrial and commercial concrete structures such as buildings, bridges, tunnels and walls.
Tank Linings
Applications such as potable water tanks, sprinkler tanks, attenuation tanks, clean and dirty water systems require a specific approach to keeping water in and protecting groundwater against pollution.
Potable Water Tanks/Pits and Ponds
Potable water tanks and reservoirs can be protected in various ways including the use of FPO sheet membranes and spray applied systems. Joints and cracks in the structure are commonly sealed using the SG system.
Primary and Secondary Sedimentation Tanks
Retention pools, tanks of sewage water or chemical effluents require chemically resistant linings for protection of the subsoil and groundwater against pollution. Following the specific requirements sheet membranes, liquid membranes based on polyurethane or polyuria epoxy coatings may be chosen.
Liquid Applied Membrane System
FAST TO APPLY, CRACK-BRIDGING, POLYU RETHANE AND POLYU REA BASED LIQUID MEMBRANES.
Liquid applied membranes (LAM) are highly elastic and flexible polymeric systems, usually based on
polyurethane or polyurea resins with excellent technical properties for high performance applications. These materials are applied on prepared / primed external concrete surfaces by spraying and provide excellent solutions for complex detailing.
Liquid applied membranes will also prevent any lateral water underflowin the event of local damage. Application below the base slab is done on aspecial fleece before the structural concrete slab is placed.
Polyurea systems are ideally suited to the waterproofing of podium deck slabs and compatible with Prunova's solutions for belowground waterproofing, thereby offering a one-stop-shop solution forwaterproofing the entire structure.
Cold Liquid Applied Roof Coating System
Negative and Positive Below-Grade Waterproofing
Waterproof Mortars and Bituminous Coatings
EXTERNALLY APPLIED SYSTEMS WITH OR WITHOUT CRACK -BRIDGING ABILITIES.
Prunova's waterproof mortars and bitumen based coatings are rigid or semi-flexible waterproofing products.
They are supplied as ready to use solutions to seal against damp soil, seepage and percolating water. They must be pre-applied on suitable substrates under new structural concrete slabs and are generally post-applied externally on new walls.
They must be used in combination with appropriate joint waterproofing systems for construction and movement joints. Good external drainage with a permanent dewatering system is also necessary; normally using drainage pipes placed at or belowthe level of the base slabs to prevent any build-up of water pressure.
Watertight Concrete
Prunova's Watertight Concrete System provides waterproofing for: • Basements
Lift pits
Retaining Walls
Concrete facades
Swimming pools
The benefits of the watertight concrete systems are clear :
Time saved at design and construction stages as the need for external membranes with their complex detailing and installation is eliminated.
Cost effective in comparison with membranes and other systems.
Delivers maximum usable area to the occupier.
Cavity Drainage System
Cavity Drainage System creates a water management system to control water after it has penetrated the structure. Utilizing a highdensity polyethylene internal drainage membrane, the system is installed loose laidin flooring applications and attached to the wall with surface plugs in verticalinstallations.
Typical applications include:
Walls and floors of basements
Cellars
Compartmentalized Membrane System
HIGH PERFORMANCE, CRACK-BRIDGING AND FULLY CONTROLLED. Highly flexible waterproofing systems using PVC-P or FPO based sheet waterproofing membranes are installed externally andcover the entire basement structure in contact with the ground. The waterproofing layer is divided into'compartments' with a network of cast in place compatible water stops that are welded to the membrane. Prunova's systems are used extensively in heavy civil engineering solutions or where highly aggressive conditions prevail.
Fully Bonded Membrane System
PRE APPLIED, FULLY BONDED AND CRACK BRIDGING MEMBRANE SYSTEM. This unique system produces a durable mechanical bond to the fresh concrete. In addition, the sealant prevents any lateral water underflow and migration between the membrane system and the structural concrete.
The Fully Bonded membrane system can be used to waterproof all types of reinforced concrete basements and other below ground structures. Typicalprojects are;
Residential and industrial buildings such as housing, commercial and leisure facilities.
Engineered structures such as retaining walls, tunnel shafts, cut and cover tunnels.
Heavy duty Balcony and Walkways
Waterproofing for Balconies and Walkways
BALCONIES AND WALKWAYS ARE EXPOSED TO THE ELEMENTS AND REQUIRE ADEQUATE WATERPROOF PROTECTION to ensure they remain in good conditionand suitable for use by the building's occupants.
The systems incorporate our unique waterproofing membrane Prunova's high performancewaterproofing system that utilizes a moisture-triggered curing system. Our balconysystems are available with a range of guarantees and functional topcoat optionsdesigned to suit our project/client requirements.
Our balcony systems offer a complete solution for your balcony requirements, as well as exhibiting many key features:
Up to 20 year guarantees available.
Excellent adhesion
Waterproofing achieves high tensile strength
Elastomeric – allowing for greater thermal movement
Hard wearing
Skid inhibiting
Seamless technology – no seams or joints
Vapour permeable
UV resistant
Flexible Waterproofing of Tunnels
TUNNELS ARE BUILT WITH A SERVICE LIFE OF OVER 100 YEARS, which means that standards for tunnel construction must be high, in particular those involving sealing and waterproofing systems.
A tunnel seal has the task of protecting the tunnel construction against damage from moisture or the unintentional entry of water as well as the danger posed byaggressive water or soils and the effects of chemicals. Thus the reliable functioning of a seal is of particular significance in the case of traffic tunnels, which are not easily accessible for subsequent repairs after construction.
Urethanene&Bemto-Grout Injection
Solutions for Waterproofing Cracks
Structural bonding and flexible watertight injection systems for crack sealing in concrete structures: • For the surface sealing of bridge decks:
Flexible polyurethane and acrylic resin based injection systems
For structural cracks and void repairInjection low viscosity, epoxy resin based systems
Swimming pools and outdoor reservoirs
Prunova's Waterproofing System fully protects above and below ground structures from water ingress, eliminating the need for the maintenance of any internal drainage or pumping system associated with some other solutions. Suitable for virtually any application, the system provides an effective water-tight seal for structures that must keep water out;
Basements
Underground car parks
Swimming pools, water tanks, etc – structures that must retain water
This system can be combined with a range of complementary products for a comprehensive watertight solution. The waterproofing range consists of a render system for use on walls and overhead and a screed system for use on the floor.
ADVANTAGES
Withstand high water pressures
Bonds to the substrate
Hard wearing surface
No ongoing maintenance
Follow contours of structures
100 year track record
Can be used to achieve Grades 1-3 according BS 8102- 2009
Suitable for high water table according to BS 8102-2009
Waterproofing for Bridge Decks
TO INCREASE THE DURABILITY OF REINFORCED CONCRETE BRIDGES, all concrete movement and construction joints,plus the bridge decks have to be waterproofed to prevent serious damage to the concrete, or to the embedded steel reinforcement. Due to dynamic loading, the bridge decks must be protected with elastic, crack-bridging systems to accommodate any movement and maintain the protection.
ADVANTAGES
Elastic, crack-bridging properties, especially at low temperatures
Resistance to chlorides and automotive chemicals such as fuel, oils and hydraulic fluids.
Easy to install and accommodate variations in level and substrate conditions.
Fast application to reduce traffic closure times.
Solutions for Bridge Deck Waterproofing:
For concrete bridge decks under hot poured asphalt:System consisting epoxy overlay and liquid applied membrane.
For steel bridge decks under hot poured asphalt: Systemconsisting HM Primer and HMwaterproofing layer.
For steel bridge decks without asphalt topping: System consisting of HM Primer and TF waterproof wearing layer performance Watertight Concrete System.
Solutions for elastic joint sealing:
High Performance watertight joint sealing systems for use on bridge decks, parapets and other elements:
For facade and parapet joint waterproofing: SG system.
For bridge deck and deck waterproofing edge terminations: B, R and E edge systems.
For facade joint waterproofing: Joint sealants.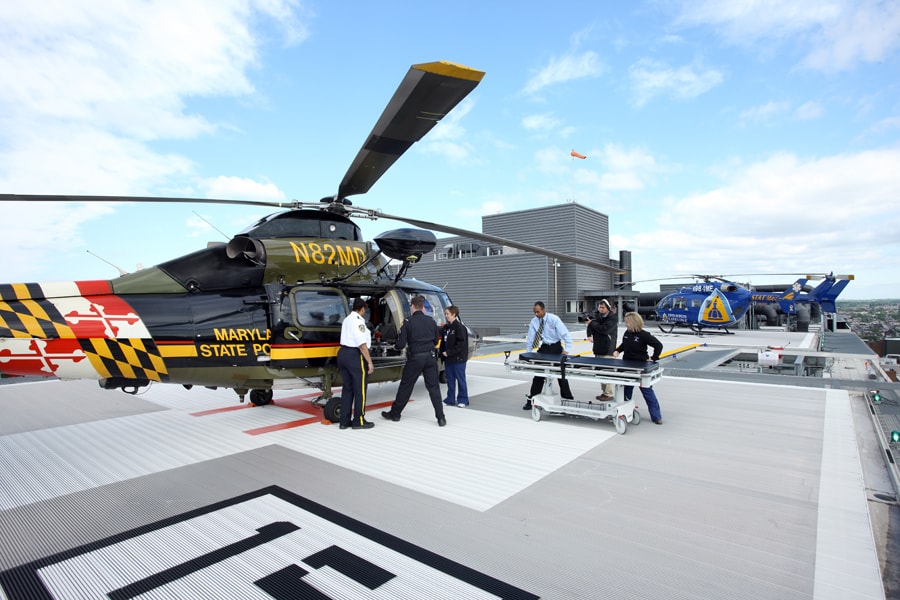 Helicopter Pad – Helipad Coatings & Graphics
A Helipad is a special deck area on a roof for helicopter landings. Therefore these areas must be waterproof, highly mechanically and abrasion resistant, with dynamic and static crack-bridging properties. The surfaces must also be UV-light stable and non-dusting under the strong down draught from the helicopters. Usually these areas also have to include and display large two-digit numbers and/ or a logo with vivid colors. PRUNOVA's Specialty floor coatings focuses on these things and with General Authority of Civil Aviation Approved Anti-Skid Systems for Helipad we make sure we got you covered.